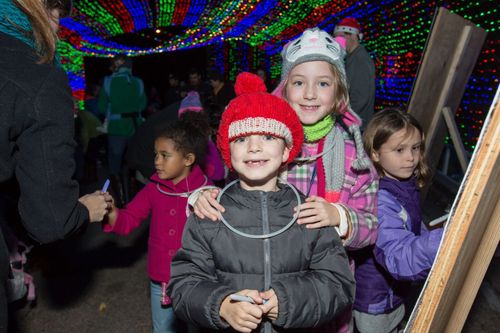 STARS at the Trail: Boys and Girls Clubs of the Austin Area
Stars at the Trail: Boys and Girls Clubs of the Austin Area
We're showcasing our Stars of the Trail organizations in a holiday blog post series to help Austinites get to know the nonprofits that are dedicated to serving Austin's most deserving citizens. Today, we're featuring the Boys and Girls Clubs of the Austin Area (BGCAA).
BCGAA is Austin's leading out-of-school-time youth development agency and currently engages with more than 12,000 youth and 7,300 registered members at 34 locations throughout Austin. The organization has participated in the Stars of the Trail program for the last four years, and the excitement of the kids as the holidays grows closer is always special. Find out more – and how you can help…
Giving Kids Opportunities to Belong, Succeed & Share Their Voice
Tell us about your organization: What is its mission/what are you most passionate about?
The Boys & Girls Clubs of the Austin Area is a youth development organization that has served economically-disadvantaged kids in Austin and Travis County since 1967. Our mission is to inspire and enable all young people – especially those who need us most – to realize their full potential as productive, responsible, and caring citizens.
What are the most important things the Austin community should know about your organization?
The most important role of the Boys & Girls Club is to provide our kids with the opportunity to belong, to succeed, to serve their communities, and to share their voice with the world. A Boys & Girls Club also gives kids ongoing relationships with caring, adult professionals, as well as life-enhancing programs and character development experiences
How can the Austin community best support your organization?
During the holidays, we welcome and are most grateful for year-end cash gifts, which help us continue our services for more kids, more often. While we don't have a formal "adopt-a-family" program, if you're interested in sponsoring a family for the holidays, please give us a call at 512-444-7199.
What is your favorite part about the STARS program? Most heartwarming holiday moment?
The way the volunteers and staff at Trail of Lights treat the kids! They feel so important and love the "VIP" treatment. They are amazed when they see the Club's name on the sign and their own VIP room for cookies and hot cocoa. Last year, a fifth grader referred said his visit was the best part of the holidays. Our staff looks forward to seeing the kids take it all in: Their wide eyes and big smiles remind us what the season and the community is all about.
How can people help your organization, this holiday season and beyond?
Through support from local individuals, businesses and BGCAA staff, Club youth get the tools and opportunities they need to create great futures. You can help provide these opportunities by making a direct donation to Boys & Girls Clubs of the Austin Area. We're also participating in the Season of Caring this year – and this BCGAA family could use your help.
What is your organization looking forward in the new year?
We're looking forward to continuing to help students improve academic success, keeping kids healthy, and doing what we can to develop them into productive, caring and responsible citizens.
What are your organization's goals for 2018?
Our goal is to provide a world-class Club experience that shows kids that success is within their reach; that all members are on track to graduate from high school with a plan for the future; that they demonstrate good character and citizenship, and that they live a healthy lifestyle.