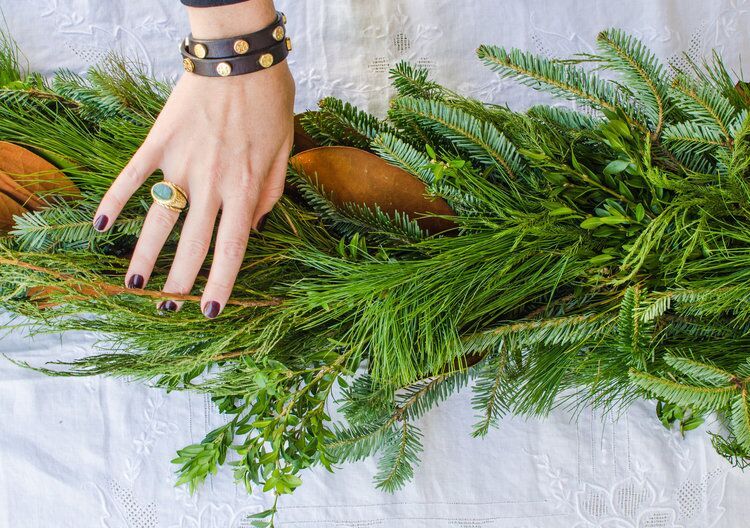 Toni's Top 5 ways to "spruce up" your holiday décor
Sponsored content by Gracious Garlands.
I'm so excited to talk with you today about one of my favorite topics – decorating for the holidays! I realize that as Hospitality Director for the Austin Trial of Lights, decorating for the holidays is what I do practically all year round, but it seriously never gets old!
Along with my top 5 ways to "spruce up" your holiday décor, today I'm sharing with you one of my new secret weapons for my own home's holiday decorations. My favorite and easiest way to decorate in any season is to bring the outdoors in. That means that for the holidays I love "sprucing up" my home with pine and spruce branches in tablescapes, garlands and, of course, I can't forget my Christmas Tree! However, during the holidays I'm so busy creating memorable parties and experiences for the Austin Trail of Lights that, to my family's dismay, my own home's holiday decorations are the last things on my list!
My Secret Weapon
Enter Vicki and Eleanor Worsham of Gracious Garlands. This mother-daughter duo curate the freshest and most beautiful greenery from farmers around the country specially designed for your holiday decorating. Not only do these ladies kill it with their gorgeous greenery, but their company mission is so honest and heartwarming. They are dedicated to their business' communities and give back with their partnership with Magdalene House Austin.
Top 5 Ways to Spruce Up Your Holiday Décor
As I mentioned, I love decorating with natural elements for the holidays. Incorporating greenery, berries and even fruits and vegetables into showpieces create a sense of warmth, comfort and a homey feeling. Below I'll show you how the ladies at Gracious Garlands have read my mind by offering ready-made solutions for each of my top 5 ways to add some spruce to your holiday décor.
I hope the 5 ideas have helped you "spruce up" your holiday décor. And for anyone who is as busy as I am during the holiday season, I sincerely encourage you to get a jump on your holiday decorating with Gracious Garlands this year in Austin. It's so easy… After you place your order, you'll receive your greenery the week after Thanksgiving – via client pick up at a central location or with doorstep delivery. But don't wait because their online order deadline is coming up soon – Friday, October 27, 2017!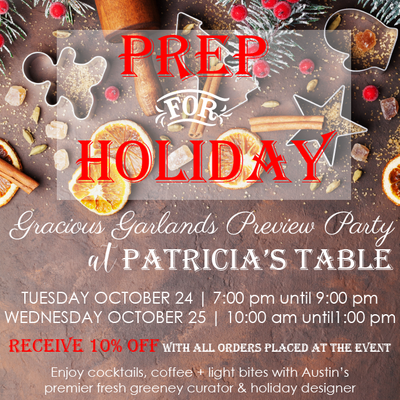 EARLY HOLIDAY BONUS
Don't miss your chance to meet the fantastic ladies of Gracious Garlands at their Holiday Party on Tuesday, October 24, 7-9pm and Wednesday, October 25, 10am–1pm at Patricia's Table in Austin. Attendees will receive 10% off all orders placed at the event.