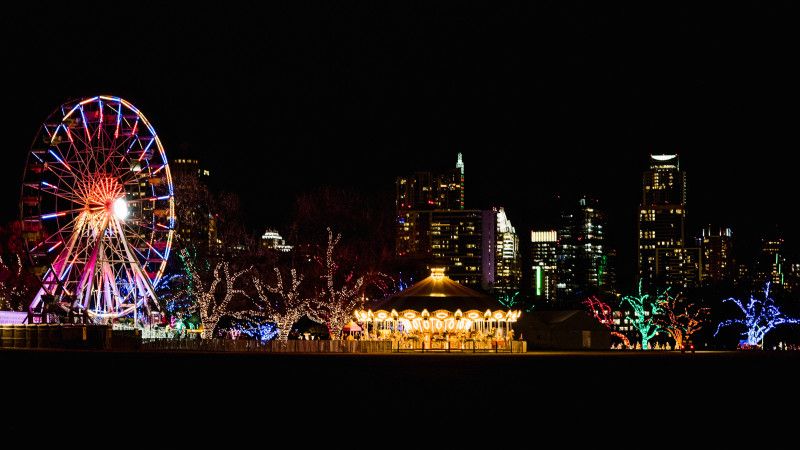 10 Best Holiday Light Displays in the United States
November 22, 2017
Article by: Catherine Schmitt, mommynearest.com
As parents, few memories can top the ones you make when you see your little one ooh and ahh at thousands of dancing holiday lights. A holiday light show—whether it's featured in an illuminated attraction or in a winding garden path—is the absolute perfect way to ring in the season. While you might think your neighbor puts up some pretty intense holiday lights every year, you haven't seen holiday lights until you've visited one of these 10 huge (and we mean huge) holiday light extravaganzas. From dazzling displays at Washington, D.C.'s National Zoo to one-of-a-kind installations at California's Descanso Gardens, we've rounded up the 10 best light shows in the country—they're sure to make your holiday season extra merry and bright.
1. Hershey Park's Sweet Lights, Hershey, Pennsylvania
When: Through January 1, 2018
What to expect: At Hershey Park's annual Sweet Lights, families can drive through two miles of nearly 600 illuminated and animated displays—all from the comfort (and warmth) of your car. Holospec glasses, which are sure to enhance your experience, are also available for purchase.
2. Moody Gardens' Festival of Lights, Galveston, Texas
When: Through January 7, 2018
What to expect: This mile-long trail features more than one million lights and lighted scenes that illuminate the entire Moody Gardens property, giving you phenomenal views of Galveston Bay.
3. Garden Lights, Holiday Nights at Atlanta Botanical Garden, Atlanta, Georgia
When: Through January 7, 2018
What to expect: Atlanta Botanical Garden's annual extravaganza features thousands of lights throughout the 30-acres of gardens including various experiences like the Walk of Flames, Tunnel of Light, Radiant Rainforest and the Orchestral Orbs—all which showcase countless lights, fixtures and orbs.
4. Toledo Zoo's Lights Before Christmas, Toledo, Ohio
When: Through December 31
What to expect: See more than 200 animals come to life in light-form at Lights Before Christmas—a light show that features one million lights. The entire zoo and aquarium is covered in lights, colors and installations sure to give your family quality holiday memories.
5. Illumination at Morton Arboretum, Lisle, Illinois
When: Through January 1, 2018
What to expect: Morton Arboretum's award-winning annual Illumination holiday light show is a one-mile walking tour through 50 acres of the arboretum, featuring innovative lights, music and projections. The show also features "Illu-medallion"—groundbreaking wearable technology that reacts to the spectacular sights and sounds during your journey!
6. Oglebay Winter Festival of Lights, Wheeling, West Virginia
When: Through the beginning of January 2018
What to expect: The Oglebay Winter Festival of Lights features a six-mile drive, 89 lighted attractions and more than one million lights. One of the largest holiday light shows in the nation, the Winter Festival of Lights is energy-efficient, and showcases animated snowflakes and rainbow tunnels along with themed displays (think dinosaurs and princesses). New this year is a Christmas Chameleon, which will feature 450 changing lights.
7. Enchanted: Forest of Light at Descanso Gardens, La Cañada Flintridge, California
When: Through January 7, 2018
What to expect: Descanso Gardens' famous oak trees and botanical collections are the "stars of the show" at the one-mile Enchanted: Forest of Light experience that takes visitors on an illuminated adventure through the gardens. Guests can gawk at large-scale light displays and interactive installations—the famous Flower Power installation (a sea of illuminated tulips) is one of the show's biggest hits.
8. ZooLights at Smithsonian's National Zoo, Washington, D.C.
When: November 24-January 1, 2018
What to expect: More than 500,000 environmentally-friendly LED lights greet guests at National Zoo's annual ZooLights show where visitors both big and small can ooh and ahh at various light-up animals throughout the zoo. New this year is the zoo's glow-in-the-dark play zone for little ones that features light-up LED games and activities in the zoo's Great Meadow.
9. River of Lights at ABQ BioPark Botanical Garden, Albuquerque, New Mexico
When: November 25-December 30
What to expect: See the beauty and color of an underwater ecosystem come to life at the ABQ BioPark Botanical Garden's River of Lights. The show, which is New Mexico's largest walk-through light show, will not only feature classic holiday displays, but countless marine wildlife, animals and beyond (some dinosaurs make an appearance!).
10. Austin Trail of Lights, Austin, Texas
When: December 9-23
What to expect: The Austin Trail of Lights is a community event that invites both locals and tourists to the heart of Austin to experience everything and anything Austin-related—all in light form! From the city's delicious food and amazing music to its liveliness and family fun, the Austin Trail of Lights features it all in 40 displays and roughly two million lights throughout Zilker Metropolitan Park.
Original Link: https://www.mommynearest.com/article/10-best-holiday-light-displays-in-the-united-states