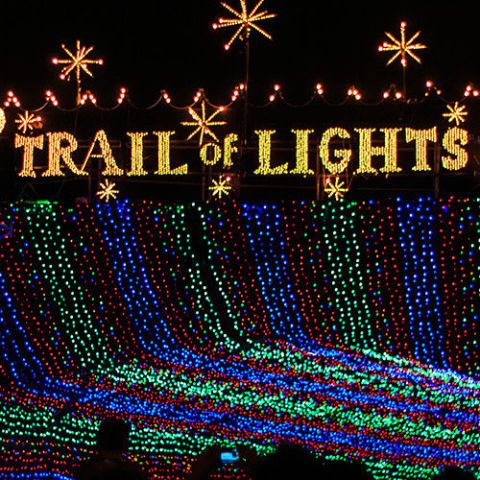 20 OF THE MOST SPECTACULAR CHRISTMAS LIGHT SHOWS ACROSS THE U.S.
February 12, 2018
Article by: Brian Murray Jr., bestproducts.com
Get in the car and head to one of these light shows all across America. They will certainly bring out the holiday cheer to anyone who attends.
Rockefeller Center — Manhattan, New York
During Christmastime, New York City is covered in wreaths and lights. The main attraction for both locals and tourists is the annual Rockefeller Center Christmas tree that's strung with tens of thousands of lights. This year, the (usually) 70-foot-or-taller tree will be lit on November 29.
Cincinnati Zoo Festival of Lights — Cincinnati, Ohio
The Wild Wonderland is back again at the Cincinnati Zoo for the 35th annual Festival of Lights. Besides seeing the millions of LED lights they have adorned around the entire premise, take a ride on the BB&T Toyland Express, and watch the light show on Swan Lake.
Storybook Land — Egg Harbor Township, New Jersey
Every year during the Christmas Fantasy show at Storybook Land, Santa Claus appears and illuminates the entire park every day at 5 p.m. To kick off this nightly celebration, there's a Christmas Fantasy Lights Parade, where the magic kicks off with decorated floats.
Holiday Festival of Lights — Charleston, South Carolina
The Holiday Festival of Lightsis a 3-mile driving tour display of 2 million twinkling lights. After the drive, park your car and experience all the activities offered outside. Enjoy marshmallow roasting, train rides, interactive lights along the lake, and so much more with the whole family.
Dyker Heights — Brooklyn, New York
You wouldn't expect to find a famous light display in Brooklyn, but this part of the borough has become well-known for its crazy abundance of Christmas decorations. When you visit Dyker Heights, you'll be blown away by all the lights and holiday lawn ornaments.
Denver Zoo — Denver, Colorado
Zoo Lights 2017 has more than just 60 acres of lights. It has nightly entertainment, Santa meet-and-greets, and illuminated sculptures swinging through the entire place.
Santa Claus House — North Pole, Alaska
At the Santa Claus House, every day is Christmas. Open since 1952, the store is filled with gifts and toys, and it features the world's biggest Santa statue. Right next door is Christmas In Ice, the winter ice park that has ice sculpting competitions, ice slides, and mazes.
Holiday Light Fantasia — Hartford, Connecticut
This 2-mile light show in Hartford's Goodwin Park will get you in the holiday spirit. With 200 individual displays along the entire route celebrating Christmas, Hanukkah, New Years, and Three Kings Day, there's something for everyone to enjoy.
Coeur d'Alene Light Show — Coeur d'Alene, Idaho
Set completely on the water, the Coeur d'Alene Light Showwas selected as one of USA Today's Top Holiday Light Shows. You can see the world's largest floating Christmas tree after you take a ride on the "Journey to the North Pole" lake cruise.
Lincoln Park Zoolights — Chicago, Illinois
The Lincoln Park Zoo is filled with family activities throughout the holiday season. Get your photo taken with Santa, see the 3D light displays, watch live ice-sculpture carving, and more.
Lights Under Louisville — Louisville, Kentucky
A light spectacular that's literally underground, the Lights Under Louisville ride-through travels along 17 miles of underground passageways. You're allowed to drive your own vehicle inside the cavern and enjoy the 30-minute ride that features over 2 million lights and 850 lit characters.
Celebration in the Oaks — New Orleans, Louisiana
Over 100,000 people visit City Park to get a look at the light spectacle. Celebration in the Oaks spans across 25 acres in both the park and the botanical gardens. The decorations are different every year, and preparation usually starts 10 months in advance.
Miracle on 34th Street — Baltimore, Maryland
Now in its 71st year, the 34th Street Light Celebration brings thousands of locals together to see all the decorative houses. Each house participates and covers their windows and lawns in lights and ornaments.
Bentleyville Tour of Lights — Duluth, Minnesota
Bentleyville is a massive walk-through that features over 4 million lights throughout the 20-acre park, which sits right at the edge of Lake Superior.
Silver Dollar City — Branson, Missouri
Probably the most illuminated park in the world, Silver Dollar City is the ultimate holiday celebration. There are a whopping 6.5 million lights, 1,000 decorated Christmas trees, two live theater productions, and a five-story Christmas tree with special effects. One of the best parts is Rudolph's Holly Jolly Light Parade.
Omaha Holiday Lights Festival — Omaha, Nebraska
Walk the 40 decorated blocks that dazzle in lights in downtown Omaha. During the Holiday Light Festival, the city hosts the annual Shine the Light on Hunger Campaign. There, nonperishable items are collected and money made from admission at the ice skating rink is donated.
Clifton Mill — Clifton, Ohio
The Clifton Mill is one of the largest water-powered grist mills. It dates all the way back to 1802, and it attracts visitors all throughout the year. During the holidays, it's decorated and covered in lights. They're mostly known for the waterfall of lights into the Little Miami River.
Night of a Thousand Candles — Murrells Inlet, South Carolina
This is a light show you have to see to believe. There are more than 5,500 hand-lit candles and even more sparking lights throughout the Brookgreen Gardens. You'll feel like you've been transported to a magical land with so many lights draped from the park's trees.
Austin Trail of Lights — Austin, Texas
The Trail of Lights began in 1965 and was originally known as "Yule Fest." It has now grown to be an annual local tradition with more than 2 million lights, and it's one of the three largest events in Austin.
Original Link: http://www.bestproducts.com/fun-things-to-do/g3419/spectacular-christmas-light-shows-across-the-us/?thumbnails&slide=20