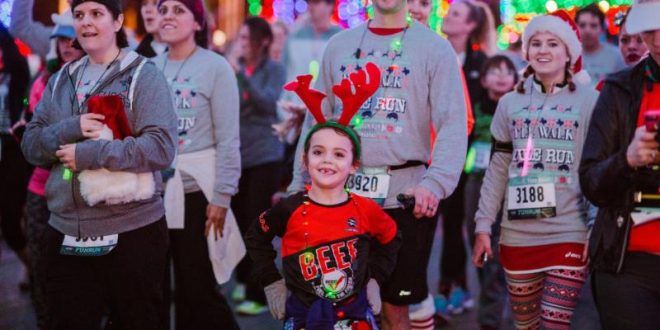 Austin Trail of Lights keeps Austin active with annual Fun Run Saturday, Dec. 2
November 21, 2017
Article by: RJ Frometa, Ventsmagazine.com
The 53rd annual Austin Trail of Lights is getting ready to "Keep Austin Active" this holiday season as they announce more details for the annual Fun Run on Saturday, Dec. 2. The annual 2017 Austin Trail of Lights Fun Run, presented by St. David's HealthCare is a 2.1-mile race starting at the iconic Zilker Tree, running through the Trail of Lights and finishing by the Trail of Lights' historic Yule Log for a Finish Line Festival. The Finish Line Festival will feature a fitness expo, including activity tents for participants to try out new exercises, a showcase with expo partners and a DJ dance party with DJ Chino Casino.
"St. David's HealthCare is always looking for opportunities to serve our community beyond the walls of our seven hospitals," said Denise Bradley, Ph.D., Vice President of Communication and Community Affairs, St. David's HealthCare. "The Trail of Lights, a beloved holiday tradition for Central Texas families, presented a perfect fit. We are pleased to kick off this year's Trail of Lights with a fun run that will give us all a chance to come together while being active."The 2017 Fun Run anticipates up to 8,000 runners in two waves will kick off the event. The first wave starts at 6:30 p.m. and the second wave at 8:00 p.m. Pricing is as follows: Early Bird Adult $32*, Child (11 and under) $20*, VIP Adult $75, (access to VIP tent, shirt upgrades), VIP Child (11 and under) $35, parking (registration not included) $15, Finish Line Festival (registration not included) $12. For those interested in registering with a team of 15 or more, there is a 10% discount code off adult registration. The Fun Run has also unveiled the 2017 Fun Run shirt, continuing the tradition of Tacky Sweater designs with unique nod to Austin landmarks. To register for the Fun Run, please see: www.austintrailoflights.org/2017-fun-run."Over 17 nights, Central Texans walk more than one million miles at the Trail of Lights," said James Russell, Executive Director, Trail of Lights Foundation. "It's a great opportunity to get outside, get active and enjoy the holidays with friends and family. Like the Trail of Lights, the Fun Run is a tradition for families who love to be active together and kick off the holiday season with each other. It's a great way to get outside, be the first to experience the Trail of Lights and bask in the glow of more than two million lights."The Trail of Lights Fun Run features multiple teams from schools, neighborhoods, clubs and workplaces, including a team of 300 from Boneshaker's Youth Run Club. Boneshaker Project works directly with students in Central Texas schools to reverse obesity trends by empowering kids to feel physically strong from a young age.
"The Trail of Lights Fun Run is the pinnacle of the semester for 300 kids in Boneshaker's youth Run Clubs who have trained twice a week during the semester to stay fit," said Alex Ecenia, Executive Director of The Boneshaker Project. "Putting exercise and fun together helps create lifetime commitment to fitness for these dedicated students. What better reward for their hard work than celebrating in the heart of Austin at the Trail of Lights."
In addition to the Fun Run, the Austin Trail of Lights is set to entertain its most ambitious calendar yet, featuring exciting performances from local Austin musicians, creative programming additions, special celebrations and community programs. The Trail of Lights will open to the public Saturday, Dec. 9, and will run through Saturday, Dec. 23. The official preview party will take place on Friday, Dec. 8. Online ticket purchases are available now at www.AustinTrailofLights.org.
The annual event, produced by the nonprofit Trail of Lights Foundation, welcomes 400,000 guests annually for 17 public nights and three dedicated nonprofit nights in Zilker Park. The full calendar of event nights, including specialty nights such as Night Lights Preview Party, UT Night, Heroes Night, Cap City Music Night and Movie Night, can be found at www.austintrailoflights.org/calendar.As Austin's second largest annual event, the Austin Trail of Lights features more than two million lights, four light tunnels, a 90-foot Ferris wheel, 40 displays, two stages and more than 20 of Austin's famous food trucks. In recent years, this community-wide event has received national accolades among holiday and lighting events by CNN.com, USA Today, Southern Living and more."The 2017 Trail of Lights celebrates the creativity, talents, accomplishments and generosity of Austinites," said Trail of Lights Foundation Board President, Leah Davies. "2017's event is a culmination of a great year, highlighting the people, music, groups, food, technology, charitable organizations and businesses that make Austin the place we love to call home. Visitors will see new modernized displays, interactive environments, Austin's famous food trucks, local musical talent, movies, local merchants and more. For those who visit the Trail of Lights as an annual tradition, there are new activities waiting for you. For those who haven't been yet, this is the year to start your tradition."Title sponsor H-E-B announced the continuation of its title sponsorship through 2019. H-E-B has served in the title sponsorship role since 2012, handing out more than 250,000 books at the Read 3 book train as part of the Read 3 early childhood literacy program."For more than 50 years, the Trail of Lights has offered surprises and delights for everyone in the community," said Leslie Sweet, Director of Public Affairs at H-E-B, title sponsor of the Trail of Lights. "Events like the Trail of Lights bring members of our community together at this special time of the year and H-E-B is proud to help Central Texas families enjoy a special time together."2017 Highlights Include
New and improved features

A new seating and hospitality area offers a mid-way resting point and expands Arctic Point — featuring the Pennybacker Bridge, presented by Community Impact, and one of the best photo opportunities at the event. Community Impact sponsored the build of the Pennybacker Bridge in 2015.
Arctic Point will continue to be built out as a new destination zone of the Trail.
Watch for Santa hanging-10 in a new surfing Santa photo opportunity, sponsored by nLand Surf Park. This new display has Santa catching a wave in the middle of Zilker Park!
The final tunnel, Starry Night, will sparkle even brighter with more than twice as many lights as past years thanks to the long-time sponsorship by Lori and Tito Beveridge. The Beveridge family has sponsored Starry Night tunnel since 2013.

Local Austin entertainment will continue throughout the Trail of Lights with nightly acts by community and professional performers and nightly story times by celebrity readers. Confirmed entertainment includes: Mother Falcon String Trio, Whiskey Shivers, and DJ Mel at the Night Lights Preview Party on Friday, Dec. 8; Alan Haynes at the Grand Opening on Saturday, Dec. 9; The University of Texas at Austin Longhorn musicians and entertainers on Sunday, Dec. 10; Datura; Farrell & Snizz; Jomo & The Possum Posse; Tiarra Girls; Trube; Wood & Wire and many others. The full entertainment schedule will be available here over the coming weeks: www.austintrailoflights.org/entertainment.
Food and tastings from some of Austin's favorite chefs, restaurants and beverage brands. Featured samplers at the Night Lights Preview Party on Friday, Dec. 8 include: Sway, Chameleon Hospitality/Wu Chow, Mattie's, Texas Honey Ham Company, Chi'Lantro, Moonshine Patio Bar & Grill, La Pera and H-E-B Cafe Mueller. Food trucks participating throughout the full event include Bohemian BBQ, Evil Wiener, Pitalicious, sMASHtini, Shawarma Point, Moojo and Fancy Fluff, featuring holiday flavored cotton candy!
The return of Austin Trail of Lights classics such as the North Pole, including photos at Santa's House that are presented by Dell Children/Ascension, the Ferris wheel, presented by the Austin Convention and Visitors Bureau, H-E-B Read3 Train book give-away and an interactive Santa's Workshop, presented by Vista Equity Partners, where visitors can create their own holiday videos to share.
Original Link: http://ventsmagazine.com/2017/11/21/austin-trail-lights-keeps-austin-active-annual-fun-run-saturday-dec-2/