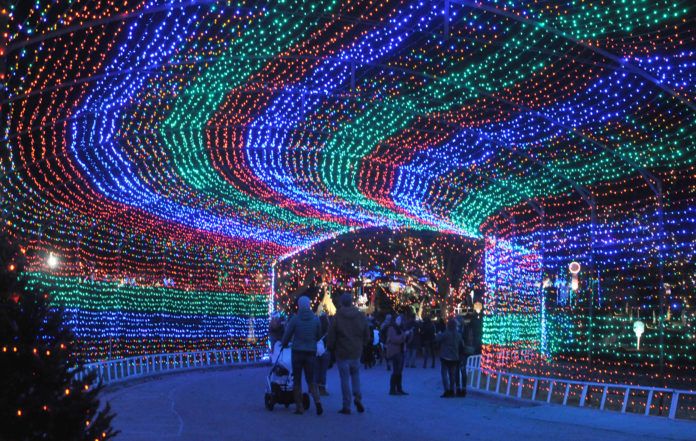 Austin's Trail of Lights captivates Zilker Park
December 15, 2017
Article by: Christina Acosta, laprensasa.com
The 52nd Annual Austin Trail of Lights has officially come to Zilker Park with over two million twinkling lights guiding guests through many displays.
Through Saturday Dec. 23, guests can enjoy more than 40 displays through Candy Cane Lane, Arctic Point, North Pole and Zilker Village. Interaction amenities include Santa's House where guests of all ages can take their photo with Santa and Mrs. Clause; a Ferris Wheel where one can see the great views of Austin including the Frost Tower; and Santa's Workshop that will allow many to enjoy the views around them.
In order to electrify the park, Rachel Green, Austin Trail of Lights board member explained that the planning starts right after Austin City Limits Festival (ACL). This allows them time to start electrifying the city into holiday season destination.
"We have an awesome team and event staff that puts this together in a couple of weeks, so the bones of everything are pretty much up and running," said Green to La Prensa. "We do an awesome event called the Fun Run [Sat. Dec 2], and at that point, most of the displays are up for the public to see. It's pretty quickly, and it requires it's a lot of man power."
Austin's Trail of lights made a sparkling entrance at Zilker Park, allowing many to overlook Downtown Austin. (Photo, Christina Acosta)
Austin Trail of Lights is the second largest event in Austin, according to this year's Austin Business Journal. The event is also recognized as a top 10 lighting or holiday event by USA Today, Yahoo and Southern Living with 375,000 attendees last year.
Since adopting the annual event from the City of Austin in 2012, the Austin Trail of Lights has been produced exclusively with private dollars and without taxpayer funding. Corporate sponsors and individual donors contribute more than $1.5 million to provide partial underwriting for the annual event. The remainder of funds is provided through event ticket sales.
This year, the Trail of Lights Foundation is partnering with the Central Texas Food Bank to challenge all attendees to bring a canned good any public night of the Trail. The organization asks attendees to help raise 25,000 meals, or 30,000 pounds of food to benefit hungry Central Texans. The drop-off bins are located nightly at the Trail of Lights entrance.
"This is the fifth year that the Trail of Lights Foundation has produced this community event, and we are very proud to offer this unique celebration of all that Austin is known for," said Trail of Lights Foundation Board President, Leah Davies. "2017's event is a culmination of a great year, highlighting the people, music, groups, food, technology, charitable organizations and businesses that make Austin the place we love to call home."
The event will also host a couple of theme nights including:
Tuesday, Dec. 12: The annual HEROES Night—Honors first responders—active police, fire and EMS, active military, veterans and emergency responders. Guests will create holiday letters to send to troops and other activities to pay tribute to first responders' service.
Tuesday, Dec. 19: Movie Night, presented by Austin Parks Foundation. ​Grab a bag of kettle corn, bring a blanket and enjoy a holiday movie under the stars and lights in Austin's beloved Zilker Park.

With the spirit of the Texas' capital, this captivating event will put guests in the holiday spirit with delicious local food, local live entertainment and electrifying lights. Zilker Park could not have been a better place to put the holiday spirit than in the center of downtown.
"We really hope the families take away the spirit of the season," continued Green. "Being together and connected with other people in the community, and even getting to know one another and perhaps make a friend. I also hope guests enjoy the music, the local bites and celebrating the year."
Original Link: https://laprensasa.com/entertainment/austins-trail-lights-captivates-zilker-park/