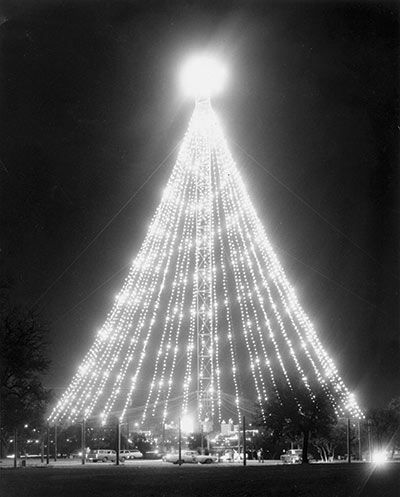 BEYOND THE LIGHTS - Austin Monthly
November 30, 2015
WHAT GOES INTO MAKING THE TRAIL OF LIGHTS
Since 1965, the Trail of Lights at Zilker Park has been the can't-miss spectacle of the holiday season. And this year's display upholds the tradition, with the return of the popular Ferris wheel and the introduction of a "Groovy Grove" for dancing, a carousel in Zilker Village and a replica of Highway 360's Pennybacker Bridge. With 50-plus displays, this event is definitely a sight to behold.
2 Million
The number of lights strung up along the path.
1.25 miles
Distance you have to walk to see the whole trail.
1967
Emma Long, the first woman to sit on the City Council, becomes the first person to flip the switch on the Zilker Holiday Tree, which is actually a moon tower adorned with about 3,300 lights.
$8,500
Cost of the electricity bill last year. The Trail of Lights Foundation pays a flat fee to the Parks & Recreation Department.
411,000
Number of people who came out to see the lights in 2014, making it the second most attended event in the city after the Austin City Limits Music Festival
1,500
Crew members and volunteers it takes to set up the show and help out during it.
2010
Due to budget cuts the show does not go on for two years. A Trail of Lights Foundation is formed and enough money is raised to bring it back in 2012.
28%
Percentage of people who went to the event for the first time last year.
15,000
Hours it typically takes to assemble the whole display.
10 years
After a 10-year absence, the Yule Log display returns in 2014. A favorite attraction since the 1960s (the event was once called Yule Fest), it had been previously removed by organizers because of a burn ban.
(source: http://www.austinmonthly.com/AM/December-2015/Beyond-The-Lights/)