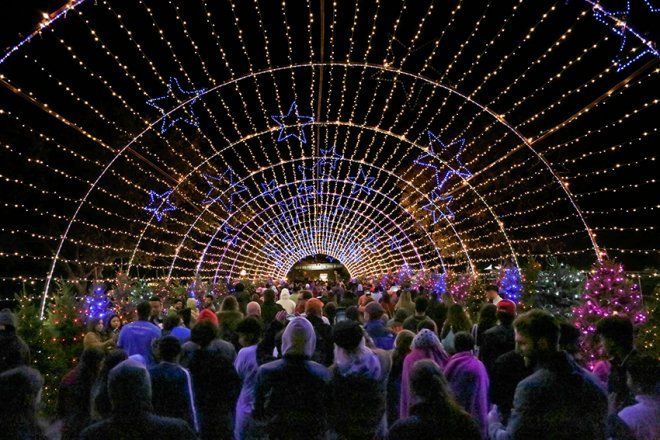 Fourth annual UT night at the Trail of Lights brings spirit
December 11, 2017
Article by: Meara Isenberg, DailyTexanOnline.com
Math senior Marisa Alonzo looked at a giant, luminous globe where one by one, Austin, the United States and the entire world were lit up with a burnt orange glow.
This lights display added to the roughly two million lights that lit up the Austin Trail of Lights on Sunday as the event celebrated its fourth annual UT Night at the Trail.
"This is my first time coming to the Trail of Lights," Alonzo said. "(I've gotten) a relaxing evening that took my mind off classes and finals. It allowed me to have fun and enjoy the Christmas spirit."
The celebration was free and open to the public, and tied the Trail's traditional holiday spirit together with performances from University groups.
"UT is such an integral part of Austin, Texas," said Mark Williams, a Trail of Lights Foundation board member. "This (event) gives a chance for the UT community to come out and be together, and experience something that is an iconic Austin tradition."
Featuring music performances from UT Mariachi group Mariachi Alma de Tejas, Beauties and the Beat a cappella group and more, the night showed the talent that Texas has to offer.
"We take crowd-favorite Christmas carols and we find really fun arrangements and sing our own versions of all of those songs," said Alexa Devega, Beauties and the Beat event coordinator.
Devega, a mechanical engineering senior, said the group enjoys seeing how the crowd reacts to Christmas classics, such as "Winter Wonderland" and "Sleigh Bells."
"It's really nice to put smiles on people's faces by just singing," Devega said. "We really love that we get to participate in UT Night, (not only) because our fellow students will be there enjoying the lights, but also it's a huge tradition in Austin."
UT alumna Alexandra Williams visited the Trail for the first time Sunday night for two simple reasons.
"For me, it was an event dedicated to my school that I could take my dog to," Alexandra Williams said. "I thought, 'It's UT night, I graduated from UT, I can show some pride in my school.'"
In comparison to other events during the Trail's 15-day stretch, Mark Williams said it's school spirit that makes UT Night shine.
"We find it to be really special for people from the community to come together," Mark Williams said. "There's an important spirit about being a Longhorn, and realizing how integral the University of Texas is to this community."
Original Link: https://www.dailytexanonline.com/2017/12/10/fourth-annual-ut-night-at-the-trail-of-lights-brings-spirit