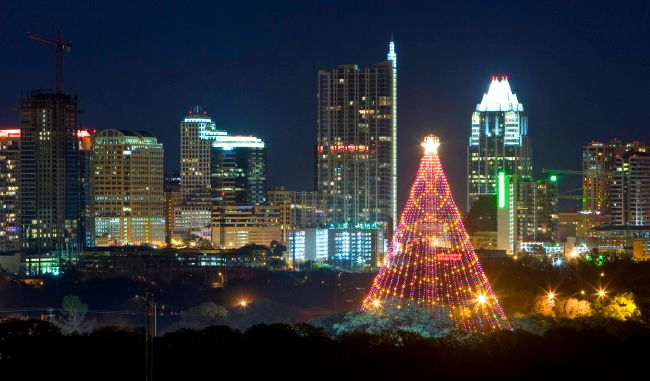 Holiday Happenings After Thanksgiving
November 20, 2017
Article by: Ashley Tsao, kxan.com
AUSTIN (KXAN) – If you're ready to get into the holiday spirit, you're in luck. Many cities plan to kick off winter festivities right after Thanksgiving.
Travis County
Santa's coming to Austin's Long Center on Friday, Nov. 24 from 10 a.m. – 1 p.m. Children will be able to take a free picture with Santa and enjoy some holiday treats.
The Domain in Austin will host a holiday light show and complimentary horse-drawn carriage rides starting Friday, Nov. 24.
Zilker Park's tree lighting is on Sunday, Nov. 26 at 6 p.m. The tree lighting will be followed by live music and the park's Trail of Lights will begin the following day, Nov. 27. KXAN is a proud sponsor of the Trail of Lights.
The Circuit of the America's will be transformed into a Winter Wonderland, starting Dec. 1. It'll have an ice skating rink, Santa's workshop, a tunnel of lights and even a human snow globe.
The Hill County Galleria will hold a tree lighting on Friday, Nov. 24 at 6 p.m. Children will also have an opportunity to take pictures with Santa.
Williamson County
A cul-de-sac in Cedar Park will boot up 250,000 holiday lights on Thanksgiving night. Anna Court's light show starts at 5 p.m., seven days a week. The neighborhood will also be collecting toys for the Blue Santa program and Safe Place.
The city of Georgetown will host its Lighting of the Square on Friday, Nov. 24. The event will be held on the east steps of the Williamson County Courthouse at 6 p.m.
Hutto will host a tree lighting in downtown Hutto on Saturday, Dec. 2 at 5:30 p.m. The event will include singing, music, hot cocoa and decorating Christmas crafts
Johnson City
Johnson City will host a courthouse lighting ceremony with fireworks on Nov. 24 at 6:30 p.m. The following day, the city will have a parade.
Hays County
The Meadows Center in San Marcos will offer holiday-themed glass bottom boat tours on Nov. 22, 24 and 25. Tickets are $14.
Hays County Courthouse grounds will light up on Saturday, Nov. 25. Fun begins at 5:30 p.m. and the lights go on at 6 p.m. at 111 E. San Antonio St. in San Marcos.
Bastrop
Bastrop River of Lights kicks off at 6 p.m. on Friday, Nov. 24 at Fisherman's Park. Stroll along the Colorado River and enjoy the lights that line the river's edge.
Original Link: http://kxan.com/2017/11/20/holiday-happenings-after-thanksgiving/