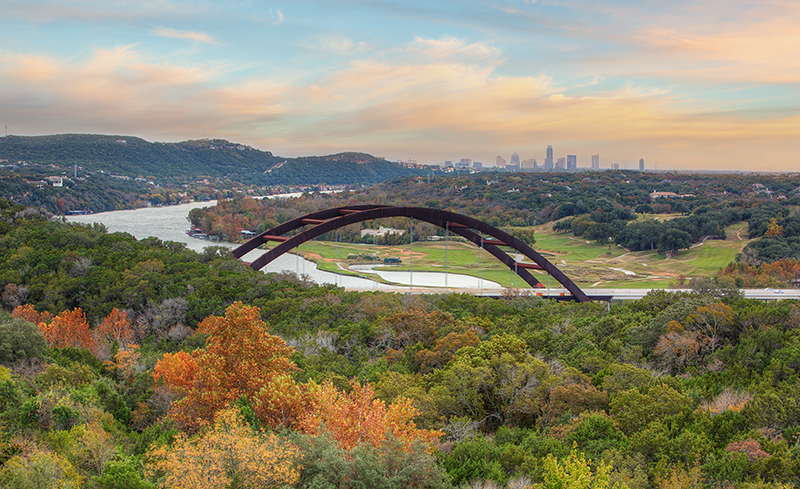 Our 8 Favorite Fall/Winter Outdoor Activities
November 21, 2017
Article from TheGuiled.co
Fall is upon us here in Austin which means temperatures are finally below 90 degrees and it's the perfect time to head outdoors and enjoy mother nature. Whether you want to immerse yourself in nature by camping for a few days or you rather spend an evening checking out breathtaking Christmas decorations, there is no shortage of activities for the whole family this season.
holiday marathon
Thundercloud Turkey Trot Austin Trail of Lights Fun Run
Celebrate Thanksgiving this year by signing the entire family up for the Thunder Cloud Turkey Trot. Why not get a little exercise before ingesting all those holiday calories?! Runners can compete in categories such as age group, team, maternity, baby jogger, wheelchair, Longhorn, or TCU Horned Frog. The best part? Proceeds from the run benefit Caritas of Austin, which helps Austin residents living in poverty. Don't worry, if you've missed the Turkey Trot, try out the Austin Trail of Lights Fun Run 2017 - another fun holiday-themed run!
trail of lights
December 2 (Trail of Lights Fun Run 2017) December 9-23 | 7pm- 10pm
This list wouldn't be complete without including Austin's largest holiday tradition. The Austin Trail of Lights is a community event that invites 400,000 people every year to come celebrate the holidays in the heart of our beloved city. Thanks to the Trail of Lights Foundation, at least half of the nights include free entry to make sure that anyone who wants to be part of the experience has a way to do so. To be first in line, sign up for the Trail of Lights Fun Run and celebrate afterwards at the Finish Line Festival. Don't forget to show off your holiday spirit by dressing up as your favorite Christmas character!
hike mt. bonnell
Covert Park | 5am-10pm
By far the best place to go for a panoramic view of the entire city! Mount Bonnell is considered the highest point in Austin at 775 feet. Though it is a short trail, (0.3 miles) the 200ft elevation gain makes it an ideal place for trial runners to get a great workout. Pro Tip: pack a picnic and have a romantic sunset date or go at sunrise to avoid the crowds.
ice skating on the plaza
Whole Foods N Lamar November 24- January 15 | 10am- 7pm
With a convenient central location, the Whole Foods rooftop outdoor skating rink is the perfect activity to get into the holiday spirit. The rink is open to the public on weekends (Fri-Sun) but for weekday skate hours be sure to contact guest services. Entry is only $10 and includes skates rental. On Sunday, December 18th, "Skate for a Cause" will be hosted by Ice Skating on the Plaza to benefit Boneshaker!
graffiti park at castle hill
Hope Outdoor Gallery | 11th & Baylor St
An artistic wonderland that was once destined to become a condominium is now one of the cities greatest treasures. Graffiti artists from all over the city have come to lay down pieces on the cement walls and foundation that make up the park. It is the only paint park of its kind in the USA but a big move is in the works! Construction of the new, expanded 6-acre art park is expected to begin in early 2018 and wrap up by end of next year.
camping trip
Fall brings perfect weather for exploring the campgrounds and state parks that border the city of Austin. What better way to enjoy them than bringing a tent, sitting by a crackling fire, and gazing up at the star filled sky. A few of our favorite spots include Pace Bend Park, McKinney Falls State Park and Pedernales Falls State Park. If you'd rather not go completely primative, glampers can rent cabins or even bring your own RV to several sites.
mozart's christmas light show
3835 Lake Austin Blvd, 78703
One of the best FREE winter events in the city is known as "Holiday Lights at Mozart's Coffee Roasters." Apart from being surrounded by over a million LED lights on the outside deck, getting in the holiday spirit won't be difficult thanks to the school choirs and community groups scheduled to perform a variety of Christmas songs throughout the show. The event runs daily until January 1, 2018 (except Christmas Day) from 6pm-11pm. Mozart's describes this year's show as having "many ways to interact" making it a "light experience" not just an ordinary light show!
stand-up paddle board
Rowing Dock | 2418 Stratford Dr, 78746 9am-6pm
Water sports aren't considered just a summer activity when it comes to Austin. We are fortunate enough to have warm sunny days all throughout Fall and Winter! Lady Bird Lake is the perfect place to try out SUPing (Stand Up Paddle boarding) thanks to it's central location, amazing views of the city, and relatively calm waters. There are several rental places that are happy to provide you with anything you might need and even offer lessons for beginners wanting to master this water activity. We recommend checking out Rowing Dock, Texas Rowing Center, or Congress Avenue Kayaks.
We hope that we've inspired you to add a few things to your bucket list this Fall & Winter season. Let us know what your favorite activities are this time of year!
Original Link: https://theguild.co/blog-articles/2017/11/19/our-8-favorite-outdoor-activities-for-fall