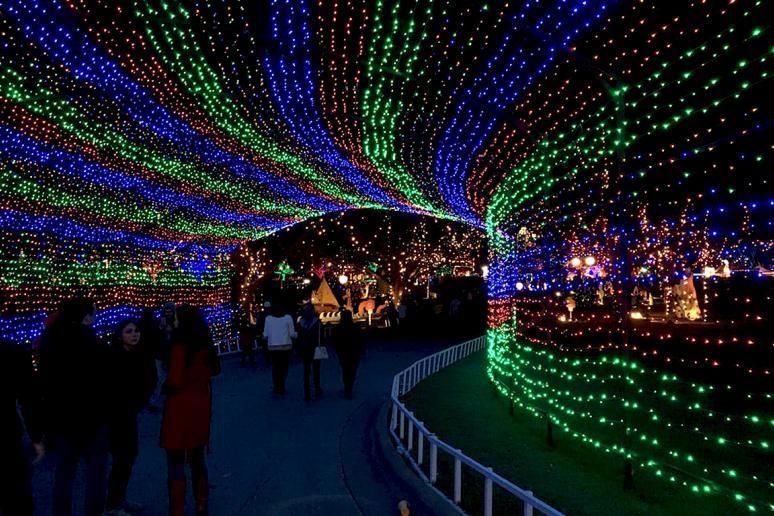 The Best Christmas Light Displays in Every State
Article by: thedailymeal.com
There are a few things that no holiday season is complete without. Cookies, of course. Time spent with family. A fun gift exchange game, perhaps. And Christmas lights. No matter where you live in the United States, you don't have to travel too terribly far to see a fantastic Christmas light display. From the shores of Florida and Maine to the wild and wonderful Midwest to the West Coast states of California and Washington, each and every state has one standout Christmas light display that is an absolute must-visit destination.
Alabama
The Magic Christmas in Lights at Bellingrath Gardens in Theodore, Alabama, is one of the region's most cherished holiday traditions. It features over 3 million twinkling lights, 1,100 set pieces, and 15 holiday scenes, including a particularly stunning underwater scene.
Alaska
North Pole, Alaska, is a Christmas town year-round, so of course it has a superb Christmas lights display. Not only does the Santa Claus house illuminate with stunning white lights, but the nearby Christmas in Ice putss a unique spin on the holiday lights display by illuminating stunning ice sculptures.
Arizona
The Phoenix Zoo's ZooLights: Let It Glow takes nearly four months to set up, and one visit will show you why. Millions of lights illuminate the zoo, with dozens of animal-themed displays. But those bright lights aren't even the main attraction — that would be the three-story lit Christmas tree!
Arkansas
Covering 18 acres, the Holiday Lights at Garvan Woodland Gardens in Hot Springs is a true Christmas celebration. For 2017, a new addition to the winter garden display is getting people talking: The ice dandelion will feature dandelion seeds blowing in the wind, as lights shine upon it.
California
A dedicated group of homeowners on Lubao and Oxnard Streets in Woodland Hills create Candy Cane Lane every year, and it's truly a sight to see. Each home has a unique theme to their decorations, whether they choose inflatables, a classic nativity scene, or Santa and his reindeer. No matter your holiday vibe, you'll find at least one home to really marvel at.
Colorado
Nearly 24 acres of the Denver Botanic Gardens are lit up every year for their Blossoms of Lights. The interactive light display in the UMB Amphitheater is a guest favorite, as is the truly magnificent O'Fallon Perennial Walk. Despite frigid temperatures, this annual tradition is a perfect winter date.
Connecticut
Christmas, Hanukkah, and New Year's Eve are all well represented at Goodwin Park's Holiday Light Fantasia in Hartford. The two-mile show features over 1 million spectacular lights and its very own "Where's Waldo." Try to find the hidden puppy Flurry among the displays; he'll be the dog in a Santa hat!
Delaware
Of course Delaware keeps things classic and classy for their holiday displays. Yuletide at Winterthur features a truly remarkable dried-flower Christmas tree, and Henry Francis du Pont's former home showcases holiday traditions from the 1800s and early 1900s in addition to plenty of elaborate lighting displays.
Florida
The Holiday Fantasy of Lights in Coconut Creek truly earns its name. For over 20 years, three miles of Broward Country are decked out in massive holiday displays, including one giant, very fuzzy lit teddy bear. Over 35,000 cars and 150,000 visitors take in these brilliant displays every year.
Georgia
You'll definitely want to keep a look out in Lookout Mountain, Georgia, for Rock City's Enchanted Garden of Lights. Here, you'll find over 30 holiday scenes and nearly 1 million bright LED lights. But that's not all! There's gingerbread cookie decorating, specialty foods and drinks, and a peculiar toy solider mime named Jerry wandering the grounds. Be sure to try and spot him!
Hawaii
The Honolulu City Lights Trolley Tour is a fun and unique way to view some holiday lights down in the Aloha State. For 30 minutes, you'll sing Christmas carols and take in the neighborhood sights of Honolulu. Pro tip: Sit on the left side of the bus to get the best views of the twinkling Christmas lights.
Idaho
Drawing inspiration from the Aurora Borealis, Winter Wonderland in Caldwell, Idaho, is a true sight to see. Winter Wonderland kicks off with a festival before Thanksgiving and the lights run through mid-January, so you'll have plenty of chances to take in the 500,000-plus LED lights, roast s'mores by the fire, and eat at the many food trucks.
Illinois
The famous Aurora Festival of Lights is an outdoor drive-through that stretches over one mile. Phillips Park turns into a Christmas paradise with illuminated displays that include Santa's workshop, a Father Christmas, and a festive holiday train ride. The best part? It's free! However, donations are encouraged.
Indiana
Who doesn't dream of speeding down the Indianapolis Motor Speedway? OK, maybe you can't race around the track, but you can drive at a reasonable, slow pace at the annual Lights at the Brickyard. Over 2.5 million lights stretch out over two miles through the infield and along the front stretch of the historic racetrack. And there's always something to see, with 40 different scenes and 500 displays.
Iowa
Eagle Point Park in Clinton, Iowa, plays host to the Symphony of Lights. Here, you'll find over 40 lighted displays made up of over half a million dazzling lights. But that's not all you'll see on this one-mile loop. If you love running in the cold, the Symphony of Lights hosts a 5K race on the Saturday after Thanksgiving; it's a unique way to take in the holiday spectacle, that's for sure.
Kansas
Brightly lit larger-than-life flowers, fish, and bugs turn Wichita's Botanica into Illuminations every holiday season. Over 30 garden areas turn in to differently themed lands thanks to over 1 million twinkling lights. Look anywhere and you'll see lit butterflies, fairies, and even "monster trees." Of course no holiday light display would be complete without warm beverages, so there's plenty of cocoa for the kids and a hot toddy bar for adults.
Kentucky
Lights Under Louisville transforms the Louisville Mega Cavern into an underground holiday light spectacular with 2 million lights and 850 characters. Don't forget to take the 30 minute ride through underground passageways; it's a holiday must-do.
Louisiana
The Festival of Lights in Natchitoches, Louisiana, has over 300,000 twinkling lights and 100 set pieces, turning the town's riverbank into a snowbank. Natchitoches is a small town but one of the best places in America for Christmas, thanks to musical entertainment, classic Cajun cuisine, and visits from Santa himself.
Maine
The Coastal Maine Botanical Gardens simply sparkles during its annual Boothbay Festival of Lights. Thousands of lights make it appear as though the garden is literally glowing. The festivities stretch downtown to the Boothbay Harbor, where local shops, restaurants, and hotels also light up and run holiday specials.
Maryland
Drive through Seneca Creek State Park to take in the Winter Lights Festival in Gaithersburg, Maryland. The 3.5-mile drive turns the forests into over 65 animated vignettes themed to the winter woods, teddy bears, and of course, the North Pole. There are also special events at the Winter Lights Festival, including a wine walk, a pets' night, and trolley rides.
Massachusetts
The Bright Nights at Forest Park in Springfield is New England's largest lighting display. The displays are whimsical and fun, with lights themed for Dr. Seuss, Jurassic World, Peter Pan, and Santa's toy factory. Bright Nights doesn't just have Christmas displays; Hanukkah and Kwanzaa are also well represented.
Michigan
Fifth Third Ballpark in Comstock Park, Michigan, turns into the Christmas Lite Show every year. Over 1 million lights stretch out over two miles with animated displays and light tunnels, turning this display into a fun interactive activity. If you come on select nights, you can even visit Santa to tell him everything on your Christmas wish list.
Minnesota
The Bentleyville Tour of Lights is America's largest free walk through lighting display, and when we say large, we mean it. It has over 4 million lights strewn across 20 acres. The size is simply overwhelming. Take a break and visit Rudolph and Santa. And don't think you should only come before Christmas. The final night of the season ends with a fireworks spectacular.
Mississippi
Holmes Water Park in Tylertown, Mississippi, turns into Christmas in the Park every holiday season. Millions of lights depict Santa Claus, nativity scenes, and wintery landscapes. Each year, you can honor loved ones who have passed on with a lighted display for a donation of $75, giving true meaning to the holiday season.
Missouri
Santa's Magical Kingdom in Eureka, Missouri, turns Yogi Bear's Jellystone Park into a fun festival for kids of all ages. Twinkling lights hang from the trees, and you can listen to a custom radio station of Christmas music as you drive through. Don't forget to visit Kringle's General Store to get some of your holiday shopping done and visit with ol' Saint Nick.
Montana
Each of the past 20 years, ZooMontana has transformed in to ZooLights! for the holiday season. Drive through portions of the zoo to take in the stunningly bright LED light displays and listen to festive Christmas music. If you're lucky enough to register early, you can also take in the sights via a traditional horse-drawn sleigh. Just like "Jingle Bells!"
Nebraska
Downtown Omaha transforms into a dazzling display during the Omaha Holiday Lights Festival thanks to hundreds of thousands of lights. But that's not all there is to do during this annual celebration! Take your family ice skating in the Old Market, listen to live music, and head downtown on New Year's Eve for a fireworks show.
Nevada
The Glittering Lights at Las Vegas Motor Speedway truly earn their names. It's a completely LED-lit course spread out over 2.5 miles. There are over 3 million lights and nearly 500 animated displays. If it sounds over-the-top, that's because it is. But hey, that's Vegas for ya!
New Hampshire
Who doesn't like to drink during the holidays? Check out Anheuser-Busch's Brewery Lights, in Merrimack, New Hampshire, for a different Christmas lights experience. Here, you'll find thousands of lights across the brewery, see a specially lit Christmas tree, and take photos with the famous Budweiser Clydesdales. If that isn't enough for you, you can take a special tour and drink Bud Light straight from the tank.
New Jersey
Keith Shaw is just your average guy with a passion for the holidays, and that's why his Christmas Spectacular on Main Street in Cranbury, New Jersey, is a must-see. His 36-foot-tall Christmas tree is a towering spectacle with over 50,000 lights — that's more than the Rockefeller Plaza tree! Each show features 120,000 lights and musical synchronization all in one yard.
New Mexico
BioPark's River of Lights in Albuquerque is New Mexico's largest walk-through light show with over 500 sparkling light displays. In addition to taking in the sights, you can also hop aboard the Polar Bear Express for cocoa, holiday treats, and a meet and greet with Santa Claus.
New York
We really don't mean to hate on the Rockefeller Center Christmas tree — it's one of the reasons to visit New York for the holidays — but it has nothing on the Dyker Heights Christmas lights. This deep Brooklyn neighborhood has an unofficial competition to see who can have the best display, and yes, experts get involved. At the end of the day, the visitors are the true winners.
North Carolina
McAdenville, North Carolina, rebrands itself as Christmas Town USA every year, so you know they do lights well. Homes and businesses in this festive town turn their spaces into mini fantasy worlds. The homes here have been decking the halls for 62 years now, so they have it down to a science.
North Dakota
The Roger Maris Drive in Fargo's Lindenwood Park features over 65 holiday displays. Local businesses sponsor wondrous illuminated displays that feature everything from Santa and his reindeer to nativity scenes to snowy banks and everything in between. At just $6 per car, it's one of North Dakota's best holiday bargains.
Ohio
The Columbus Zoo and Aquarium is already one of the best zoos in the nation, so it follows that their annual Wildlights display is also one of America's best Christmas light shows. Massive, lit Christmas trees are displayed in the zoo's central pond, and every corner of the place is covered in bright LED lights that twinkle and dance.
Oklahoma
The Chickasha Festival of Light has been running for 25 years now, and it lives up to its legacy. The massive display features over 3.5 million lights, over 100 light displays, and synchronized animated light shows fit to holiday music. If that isn't enough to get you to Chickasha, take a gander at the 172-foot tall Christmas tree!
Oregon
The Christmas Festival of Lights in The Grotto is not only Portland's most breathtaking light scene, but in true Oregon style, it's also a concert. Throughout the holiday season, over 160 groups and local choirs perform, allowing you to take in the sights and sounds of Christmas.
Pennsylvania
Charming is truly the only word to describe Koziar's Christmas Village in Bernville, Pennsylvania. For 70 years, Koziar's has been putting up a Christmas display both indoors and outdoors, complete with over 1 million lights, a miniature train, homes that are decorated better than the finest gingerbread houses, and a meet-and-greet with Santa Claus.
Rhode Island
The Conway family of Coventry, Rhode Island, kind of loves Christmas. Their so-called Conway Christmas Lights Extravaganza features over 100,000 lights and 65 handmade characters. You'll find toy soldiers, a hot air balloon, Minions, snowmen, and penguins.
South Carolina
Christmas lights started as candles, and that's what Brookgreen Gardens Nights of a Thousand Candles honors. In addition to 5,500 hand-lit candles, hundreds of thousands of soft, sparkling white lights illuminate the Brookgreen Gardens of Myrtle Beach. "Magical" doesn't even begin to cover it.
South Dakota
Christmas at the Western Mall Light Show in Sioux Falls remembers the true meaning of the holiday season: giving. After one year off, the Western Mall's center court is once again illuminated by thousands of lights to create a magical Christmas castle scene. Donations help to support the Make-a-Wish foundation.
Tennessee
You didn't think you could get through a Christmas in Tennessee without a little country music, did you? Gaylord Opryland's "A Country Christmas" is as lavish as the hotel itself, of course. Over 3 million bright lights take over the hotel's lobby and courtyard. If that isn't enough Christmas magic for you, check out their "ICE!" display, with dozens of ice sculptures; just be sure to keep your mittens on! The ice room is kept at a frigid 9 degrees.
Texas
Austin's Trail of Lights features over 2 million lights, four magically lit tunnels, 40 festive displays, food, music, and a 55-foot Christmas tree. Does that sound like a song to you? Half carnival, half light festival, this Austin celebration has been going strong for 52 years, and it remains the best display in a state full of fabulous festive holiday celebrations.
Utah
Thirty-five acres of downtown Salt Lake City turn into a winter wonderland annually for the Temple Square Christmas Lights Celebration. Preparations go on for months as bright LED lights are wrapped around tree trunks and strung up on Christmas trees. Beautiful doesn't even begin to describe this display.
Vermont
Have a classic Christmas at the Woodstock Wassail Weekend. This wintertime event features holiday costumes from the nineteenth century, over 50 people riding horse-drawn wagons, and 400 luminary displays. Don't forget to see one of the most famous Christmas traditions of them all: the yule log.
Virginia
The Meadowlark Gardens in Vienna, Virginia, holds their Winter Walk of Lights every year. Over 500,000 LED lights turn this botanical garden into a fun holiday display featuring all sort of natural themes, such as jumping fish, dragonflies, and a bubbling stream. Visit the gingerbread village for an extra dose of seasonal flavor.
Washington
Seattle locals know that the so-called Candy Cane Lane in the University District is the place to go for Christmas lights in Washington. Homeowners take the time out of their own busy season to string up the lights and set out handmade displays for no reason other than spreading holiday cheer. Some homes will even offer passersby hot cocoa!
Washington, D.C.
The Smithsonian's National Zoo's ZooLights just gets better and better every year, and it's free! LED lights — 500,000 of them — illuminate the zoo, making this one of Washington, D.C.'s favorite holiday traditions. If you want to take your ZooLights experience to the next level, consider taking part in BrewLights, a ticketed event with beer tastings from a dozen breweries in the D.C. area.
West Virginia
Oglebay's Winter Festival of Lights takes up over 300 acres of property in Wheeling, West Virginia, and it's unsurprisingly one of America's biggest Christmas light displays. You want light tunnels? They have light tunnels! You want a Charlie Brown Christmas? They have displays from Peanuts. You want to see a massive snowman? Meet Willard. This show has everything you want (and more) over its 6 miles.
Wisconsin
Don't want to brave winter cold in Wisconsin? Head to the Grand Geneva Resort & Spa for Christmas in the Country. Over 2 million lights sparkle indoors and outdoors in favorite displays such as the "12 Days of Christmas." Don't just take in the sights! Have breakfast with the Clauses, enjoy a midday holiday tea, and mail a letter to Santa with all your Christmas wishes.
Wyoming
Every year, the town square elk antlers, in Jackson, Wyoming, get a quirky makeover with Christmas lights. The arches are already a sight to behold — they're made of real elk antlers! — but they get even more magical for the holiday season. And if that isn't enough holiday joy for you, be sure to check out the best small towns in America for Christmas lights.
Original Link: https://www.thedailymeal.com/best-christmas-lights-in-every-state-photos-slideshow