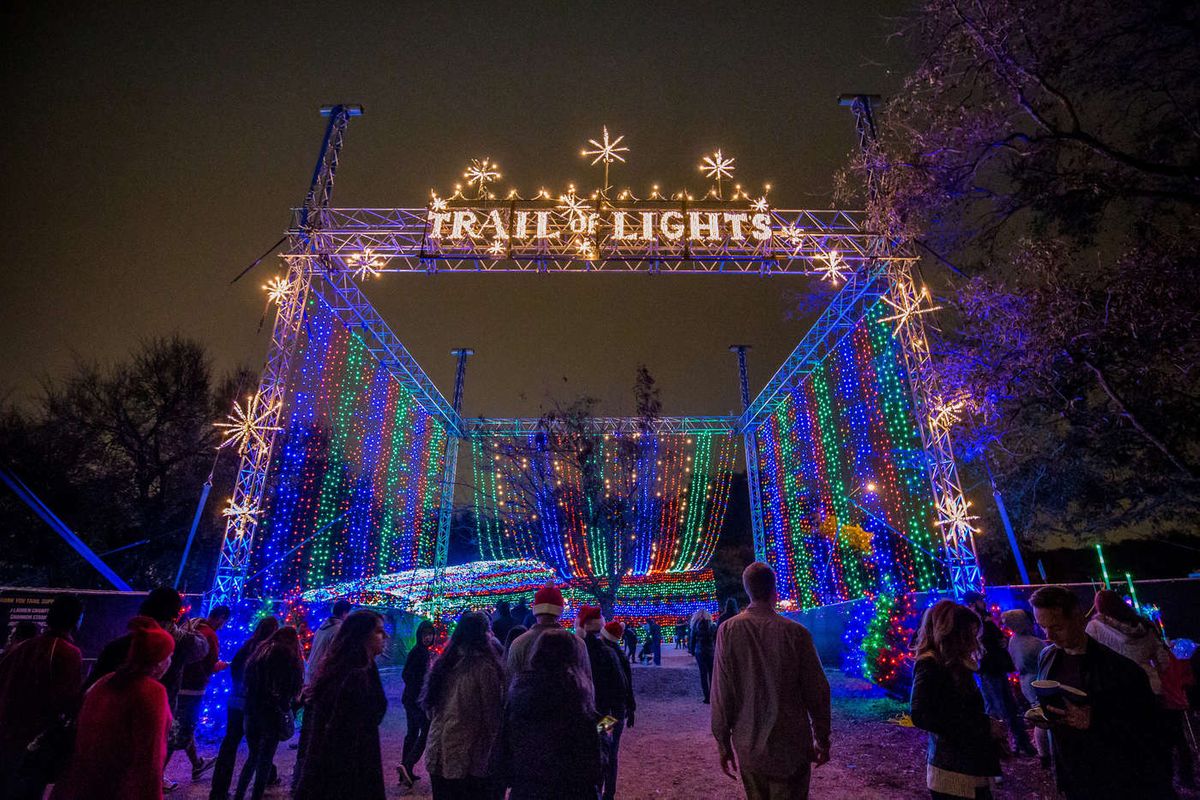 THE MOST FESTIVE THINGS TO DO IN AUSTIN THIS HOLIDAY SEASON
November 21, 2017
Article by: Emily Beyda, thrillist.com
Sometimes, the season between Thanksgiving and New Year's can feel like a chore. Sure, you get a good chunk of holidays to enjoy, but two of the three involve eating dinner at 3pm and listening to your racist uncle complain about the quality of this year's dinner rolls. Don't lose hope, though: whether you're looking to distract Grandma with an afternoon stroll through a holiday light display, or just escape family time in true Austin fashion (with plenty of live music and beer) our handy holiday event's calendar is here to help. Here's everything you need to do between now and New Year's Eve.
NOVEMBER
WEDNESDAY - SUNDAY
NOV 22-DEC 31
WATCH 'A CHRISTMAS CAROL' AT THE ZACH THEATRE
ZACH THEATRE
Almost every town in America has A Christmas Carol tradition; ours just happens to be a rock 'n' roll adaptation rumored to be inspired by Moulin Rouge, now in its fourth year running. Doesn't get more Austin than that, does it? You'll wanna jump on these tickets, as they sell out pretty quickly.
Cost: $53-$88
THURSDAY
NOV 23
DITCH THE KITCHEN AND GET THANKSGIVING DINNER AT THE 24 DINER
24 DINER
Not going home for the holidays this year? Not a problem, as downtown Austin mainstay 24 Diner hosts an annual, all-day meal of Thanksgiving classics, from 10:30am on. The place doesn't accept reservations, so you'll have to line up early to get in before the pumpkin pie runs out.
Cost: $29
FRIDAY - SUNDAY
NOV 24-DEC 24
GET OUTSIDE-THE-BOTTLE GIFTS AT THE BLUE GENIE ART BAZAAR
6100 AIRPORT BOULEVARD
With handmade jewelry, textiles, paintings, and other fine art objects of all kinds from over two hundred local Austin artists, this is the perfect place to find a one of a kind holiday gift and support our arts community.
Cost: Free admission and parking
SATURDAY
NOV 25
DO THE TURKEY TROT AT ANTONE'S SECOND ANNUAL POST-THANKSGIVING BASH
Work off some of those leftover sandwich calories with an evening of funk, soul, and blues at this old school Eastside standby. Live performers include The Peterson Brothers, Tomar & The FCs, and Eve & The Exiles.
Cost: $10-$12
SUNDAY
NOV 26
GET FESTIVELY LIT AT THE 51ST ANNUAL ZILKER PARK TREE LIGHTING CEREMONY
ZILKER PARK
Accept the inevitable coming of Christmas with a visit to the 155-foot-tall Zilker Christmas "tree" (it's not actually a real tree) as it gets lit up to kick off the season. There'll also be live music, food, and a number of local vendors in case your childlike wonderment loses its luster.
Cost: Free
DECEMBER
DEAR WESLEYANN
FRIDAY - SATURDAY
DEC 1-2
GO BIG WITH WINTER WONDERLAND AT THE CIRCUIT
CIRCUIT OF THE AMERICAS
Holiday spirit doesn't get more bombastic than a professional-grade racetrack decked out with fairy lights -- unless that racetrack also features live music, a camel intensive petting zoo, a giant ice skating rink, and something called singing trees (?!). This is Christmas dialed up to 11.
Cost: $16, but children under 6 get in for free
SATURDAY
DEC 2
DECK THE HALLS AT THE ANNUAL DOWNTOWN HOLIDAY SINGALONG
DOWNTOWN AUSTIN
With live music from local bands, a night market run by the Sustainable Food Center, and city hall all decked out for the season, this caroling event is the perfect way to get in the holiday spirit -- provided you're not sick of hearing Christmas carols over the loudspeakers at The Domain.
Cost: Free
SATURDAY - SATURDAY
DEC 2-23
GET FESTIVE WITH THE AUSTIN SYMPHONY ORCHESTRA
VARIOUS LOCATIONS
Throughout the month of December, the Austin Symphony Orchestra celebrates the season with free performances of holiday classics from all genres of music, in a variety of festive locations like the State Capitol rotunda and Symphony Square.
Cost: Free
SUNDAY - SATURDAY
DEC 3-23
CRACK SOME NUTS AT BALLET AUSTIN
LONG CENTER FOR THE PERFORMING ARTS
Aside from scoring you some serious brownie points with your ballet-obsessed niece, Ballet Austin's version of the Nutcracker holiday classic just happens to be the longest-running production of its kind in all of Texas at 54 years straight.
Cost: $27-$98
MONDAY - TUESDAY
DEC 4-5
PASS 'GO' AT THE MONOPOLY GINGERBREAD VILLAGE
FOUR SEASONS HOTEL
For the whole month of December, the Four Seasons will have an enormous, nostalgia-inducing gingerbread village set up in the lobby, but on the 4th and 5th there will be complimentary cider and cookies for all visitors, which should help distract you from wanting to break off and eat a frosted chimney.
Cost: Free
FRIDAY
DEC 8
GET NAUGHTY AT THE SANTAPALOOZA BAR CRAWL
WEST SIXTH STREET (OF COURSE)
SantaCons are a holiday tradition across America, and at the Austin iteration you can relive your misspent youth on West Sixth Street, dressed in a sweater so ugly that all tipsy mishaps will disappear into the acrylic fibers. The cover's free at each bar on the crawl, anyone who completes the crawl gets a free Santapalooza T-shirt, and there's a contest for the best costume (with prizes).
Cost: $20-$30
SATURDAY - SATURDAY
DEC 9-23
SPARKLE AT THE AUSTIN TRAIL OF LIGHTS
ZILKER PARK
Every year, thousands of people descend on Zilker Park to stroll through the enormous holiday light displays set up by the city. With over a mile of spectacular sparkling displays, the appeal is obvious.
Cost: Free or $3, depending on when you visit
FRIDAY - FRIDAY
DEC 22-29
GO HOME FOR THE HOLIDAYS WITH THE AUSTIN FILM SOCIETY
AUSTIN FILM SOCIETY
Celebrate the nostalgic white Christmas you'll never have in Austin with this series of Golden Age screenings from the Austin Film Society, including It's a Wonderful Life, The Thin Man, and of course, White Christmas.
Cost: $11.25
SUNDAY
DEC 24
GRAB FREE HOT DOGS AND WATCH 'DIE HARD'
KITTY COHEN'S
It might be too cold to dip your feet in the wading pool of this hip Eastside lounge, but you can still enjoy the classic cocktails and famous flamingo bathroom, watching Scrooged and Die Hard as you sip. Nothing says Christmas like free hot dogs!
Cost: Free
SUNDAY
DEC 31
KEEP IT FAMILY-FRIENDLY AT AUSTIN'S NEW YEAR
VIC MATHIAS SHORES
For those of us who don't drink, New Year's Eve can be a challenging time. Fortunately, this great, booze-free, all-ages event offers a less soused but still celebratory alternative to adults-only celebrations, with live music, art, and food trucks.
Cost: Free
SUNDAY
DEC 31
RING IN THE NEW YEAR BOLLYWOOD-STYLE WITH DESI DHAMAKA
THE DOMAIN
"Austin's biggest Bollywood dance party" is also the oldest celebration of its kind in the city. Get your carbo-load on with some Indian-style pizza, butter chicken, and spicy paneer, then do your best to keep up with the high-energy dancing that follows, all backed by tunes from live DJs including "Austin's Desiest DJ."
Cost: $30
SUNDAY
DEC 31
PUT ON THE RITZ AT THE OMNI HOTEL
OMNI HOTEL, AUSTIN
Countdown to 2018 in (very expensive) style at this hyper-luxe event, with party favors, a four-hour open bar, and EDM beats until the early morning hours (read: 2am). Higher-end tickets include a room upstairs at the Omni Hotel, and might just be worth springing for depending on how crazy you intend to get.
Cost: $99-$777
MONDAY
JAN 1
ICE OUT THE OLD YEAR AT THE POLAR BEAR PLUNGE
BARTON SPRINGS
For years, brave Austinites have shaken off their hangovers and gathered at Barton Springs to take a bracing New Year's Day dip into the icy water. Those brave enough to take the plunge will be rewarded with free donuts and hot, hot coffee.
Cost: Free
Original Link: https://www.thrillist.com/events/austin/austin-christmas-events-2017-holiday-calendar