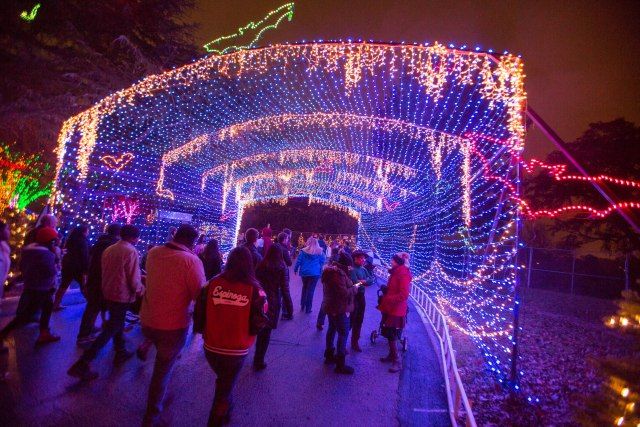 Trail of Lights Tickets are about to Go On Sale; Here's What You Need to Know
November 7, 2017
Article by: Kristin Finan, austin360.com
No holiday season in Austin is complete without a visit to the Trail of Lights, and if you're eager to map out this year's excursion, never fear — we've got the scoop on what to expect.
This is the 53rd year for the Trail of Lights celebreation.
The 53rd annual Austin Trail of Lights will be held Dec. 9-23 in Zilker Park. More than 400,000 guests are expected to visit the trail, which will feature more than 2 million lights, four light tunnels, a 90-foot Ferris wheel, 40 displays, more than 20 food trucks and two stages.
"The 2017 Trail of Lights celebrates the creativity, talents, accomplishments and generosity of Austinites," Trail of Lights Foundation Board President Leah Davies said in a statement.
Visiting the Trail of Lights is a holiday tradition for many Austinites.
Just in time for the latest cold snap, here are four things to know about this year's event.
Music will take center stage. Confirmed performers include the Mother Falcon String Trio, Whiskey Shivers and DJ Mel at the Night Lights Preview Party Dec. 8 and Alan Haynes at the grand opening Dec. 9. The full music schedule will be announced in the coming weeks at austintrailoflights.org.
There will be various specialty nights. They include the Zilker Tree lighting (Nov. 26); the Trail of Lights Fun Run (Dec. 2); the fifth annual UT night (Dec. 10); the annual HEROES night honoring first responders (Dec. 12); and Movie Night (Dec. 19).
It's possible to avoid the crowds. You can access the park early and receive other amenities if you purchase a Platinum Pass or a ZIP Fast Pass. Learn more here.
Tickets go on sale Wednesday, Nov. 8. Buy them here.
Learn more about this year's Trail of Lights at austintrailoflights.org.
Original Link: http://buzzworthy.blog.austin360.com/2017/11/07/trail-of-lights-tickets-are-about-to-go-on-sale-heres-what-you-need-to-know/