Zilker Holiday Tree Lighting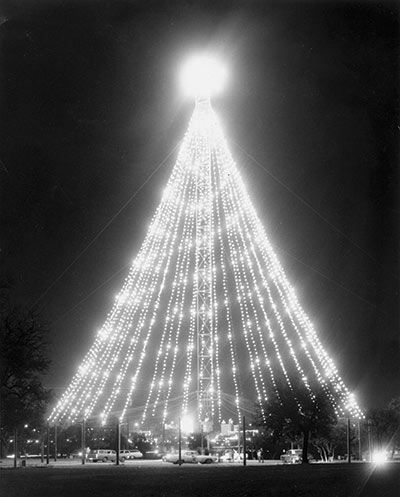 Austin's annual Zilker Holiday Tree Lighting kicks off the season of festivities in Zilker Park the first Sunday after Thanksgiving. Its complimentary and open to anyone to enjoy!
Now in it's 53rd year, the Zilker Holiday Tree is the largest man-made holiday tree standing 155 feet tall, composed of over 3,000 lights and built upon one of Austin's 17 historic moontowers. Access to the Zilker Holiday Tree is free to the public and totally independent from Austin Trail of Lights admission, but we encourage you to come down to Zilker Park and enjoy both! Food vendors and other merchants will operate at the Tree throughout the month of December. The Zilker Holiday Tree will be on display each night from 6:00 p.m. - midnight, December 1 - January 1 .
On December 10, 1967, the tree was first lighted by Mayor Pro Tem Mrs. Emma Long. In subsequent years, this honor has been awarded to the young winner of a city-wide tree art contest.
Find out more info here: https://austintexas.gov/zilkerholidaytree